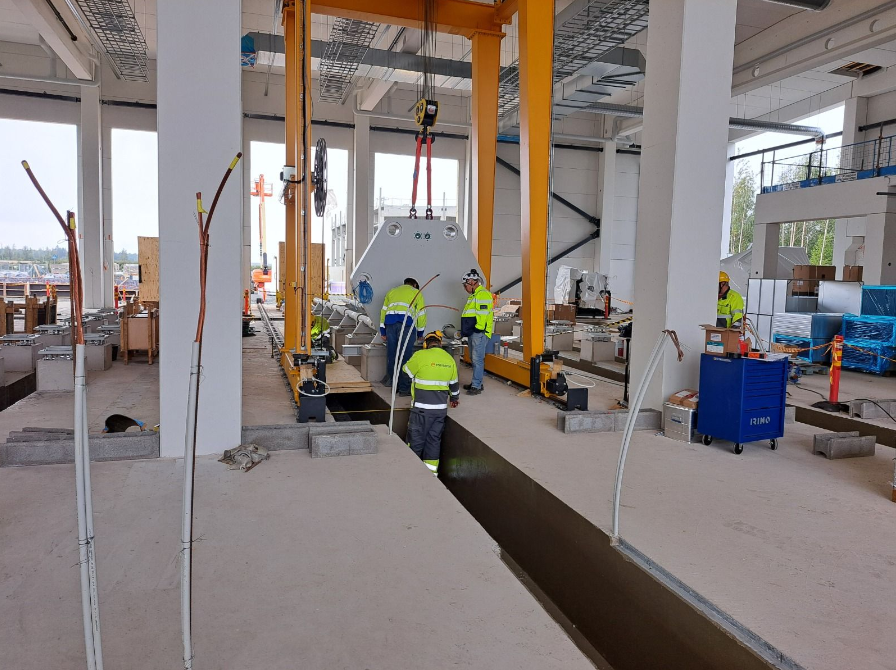 Finland's first industrial-scale green hydrogen production plant project reached an important milestone as the deliveries of electrolysis equipment needed in hydrogen production in Harjavalta started on August 23. Delivered by the German company Sunfire, the electrolyzers split water molecules into hydrogen and oxygen using renewable energy.
The electrolysis equipment to be installed in Harjavalta consists of four roughly 10-meter-long and about 100-ton stacks, each of which produces green hydrogen at a capacity of 5 MW. Together, the four stacks have 20 MW of capacity.
"In terms of hydrogen production, the electrolysis equipment is the most critical piece of technology. Its arrival in Harjavalta is a significant step towards green hydrogen production. The intensive and smooth 18-month cooperation with Sunfire has now materialized as the delivery of the first electrolyzer stacks," says Herkko Plit, CEO of P2X Solutions.
The construction of P2X Solutions' green hydrogen production plant began with excavation work in the summer of 2022, and the buildings reached their rooftop height in the beginning of June 2023. During the fall of 2023 and winter of 2024, approximately one hundred employees will be working at the construction site on equipment, piping and electrical work, among other things.
"Overall, constructing the plant has progressed as planned – many thanks for that to the construction site team and our partners, who have already worked for over 420 days without any accidents leading to absences," Plit concludes.
P2X Solutions' Harjavalta plant is slated to be completed in 2024.
More information
Herkko Plit 
CEO 
P2X Solutions Oy 
herkko.plit@p2x.fi  
+358 50 462 0788 
P2X Solutions is a Finnish pioneer in green hydrogen and Power-to-X technology. We are accelerating the rise of the hydrogen market holistically and innovatively in all areas of the value chain. We operate as a producer and distributor of green hydrogen and synthetic fuel, and we deliver hydrogen plants in a customer-oriented manner, if necessary, on a turnkey basis. We will make the world cleaner – together. https://p2x.fi/